Kateri Gabriele
1 min read
7 Ways to Get the Most from Your Simulation Prebrief
Before Starting Any Simulation Be Sure to:
Identify the simulation lab as a safe and confidential space. Respectful behavior is always the expectation!
Describe the behavior you expect from your learners during the simulation and in the debrief. Be clear what consequences will result if behavioral expectations are not met.
Orient learners to the simulation environment. This includes equipment that will be used, location of supplies and medications that might be needed, and the physical borders (real or simulated) that separate the different spaces that will be used.
Describe expectations for assigned roles very clearly. This includes the direct care providers, supplemental roles, and observers.
Explain to learners how to contact others during the simulation and where to find additional patient information.
Identify how long (in minutes) the simulation will run for.
Give learners a brief period (5 minutes) to prepare themselves before the start of the simulation experience.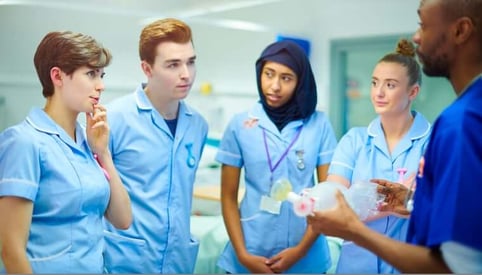 Need more ideas for best practice tips?
sim2grow's Making Simulation Stick with debriefing blog post will help you make the most of your sims with plenty of "Ah-Ha" moments!
How do you incorporate clinical judgement into your sim lab? We have 5 strategies PDF download that you can use right away.
X